Dates: 18 September – 18 October
Times: Wednesday – Sunday, 12pm – 7pm
Location: Railway Arch, 37 America Street SE1 0NJ
Do you remember 'House Of Pain', an installation that responded to your screams by lighting up a 4 storey building? Marcus Lyall, the British artist behind award-winning stage visuals for the Chemical Brothers and Metallica, is back at MERGE Festival and has teamed up with interactive composer Rob Thomas for another amazing project.
'On Your Wavelength', was a new commission for MERGE 2015. This was a mind-powered laser and sound installation. The public took part by wearing a headset that used the latest technology to transmit brain activity into spontaneously choreographed digital artwork on an architectural scale, creating your own visual soundscape. Everyone was welcome to watch or take part in the stunning interactive light show.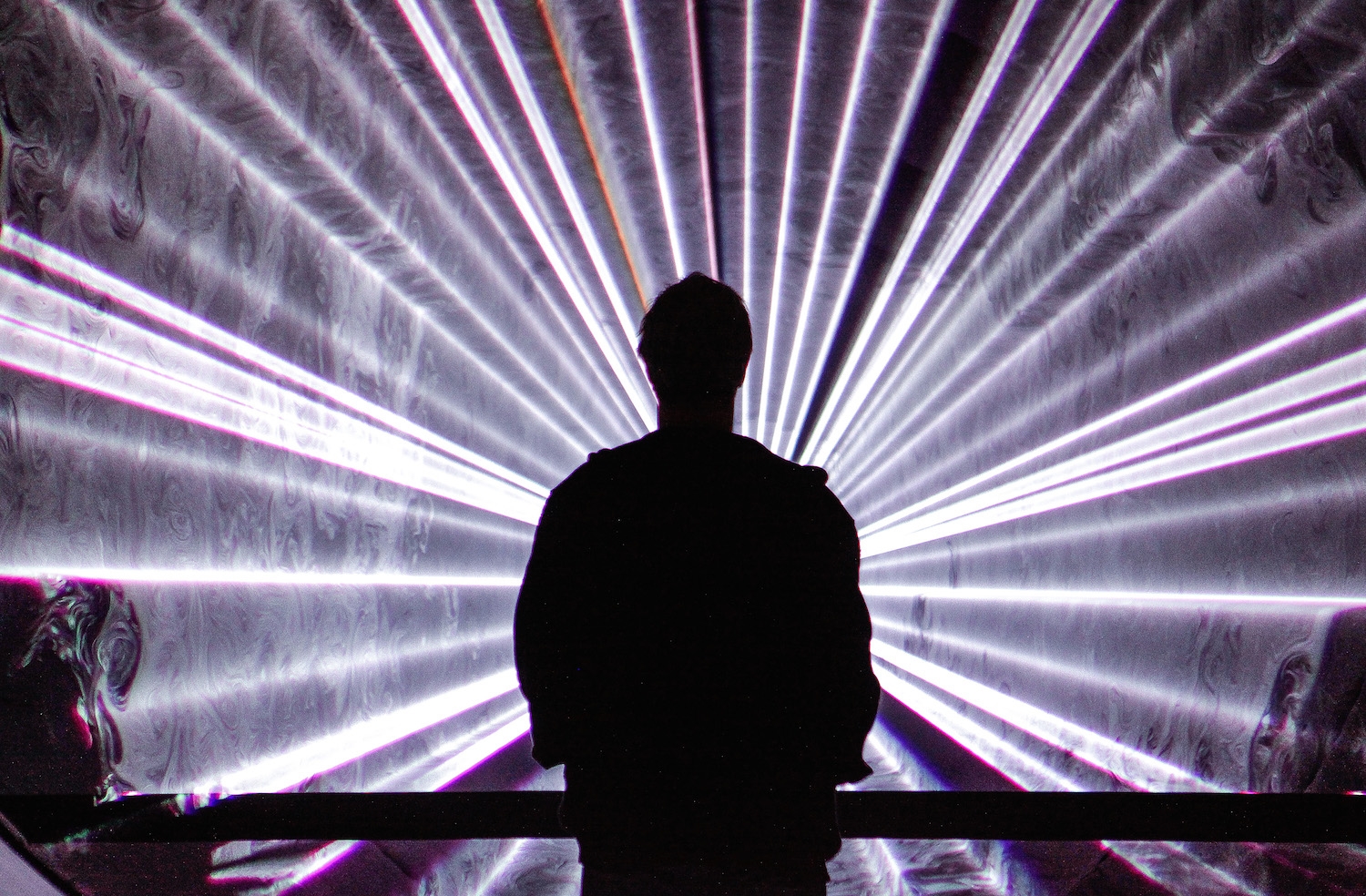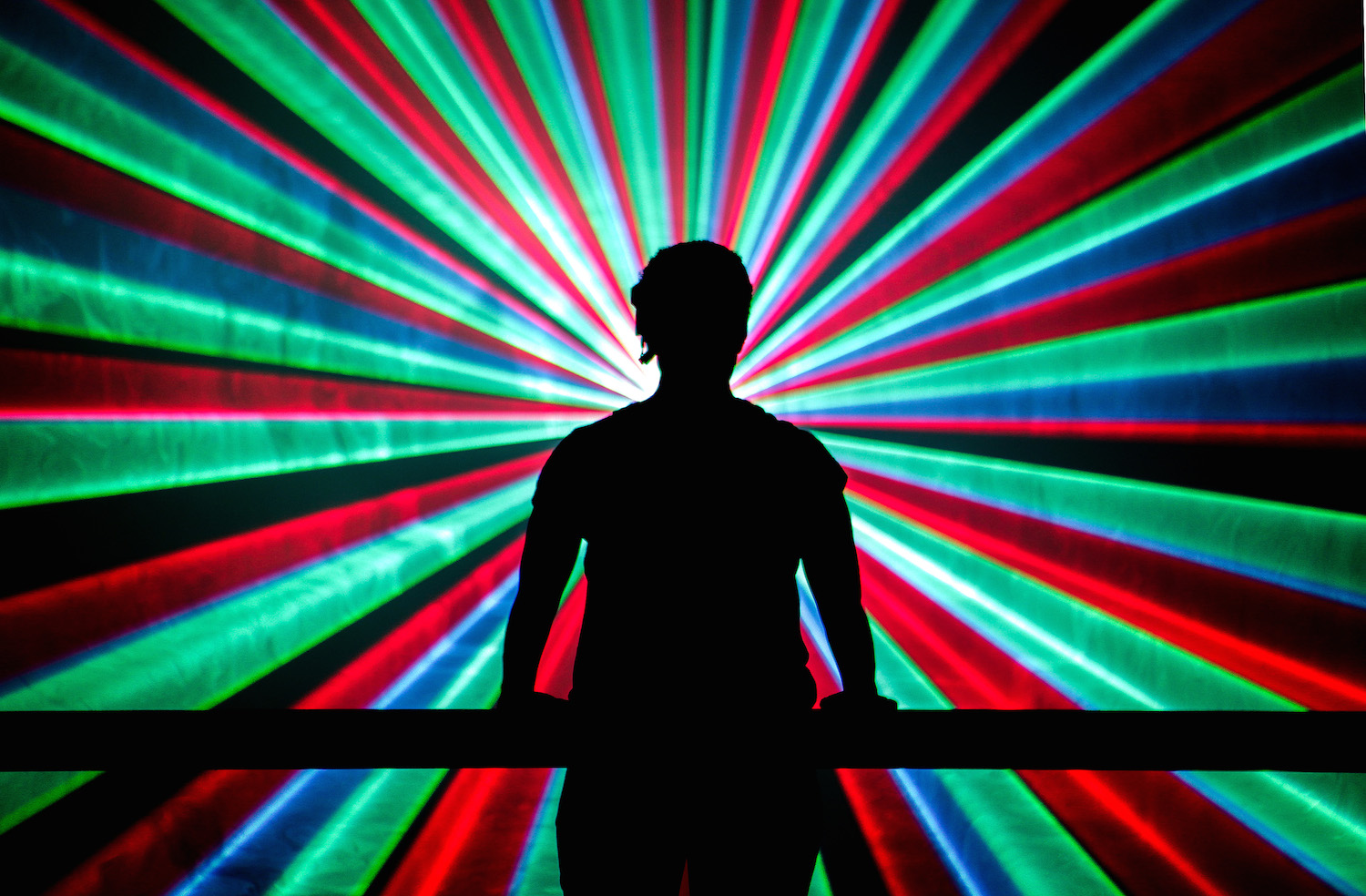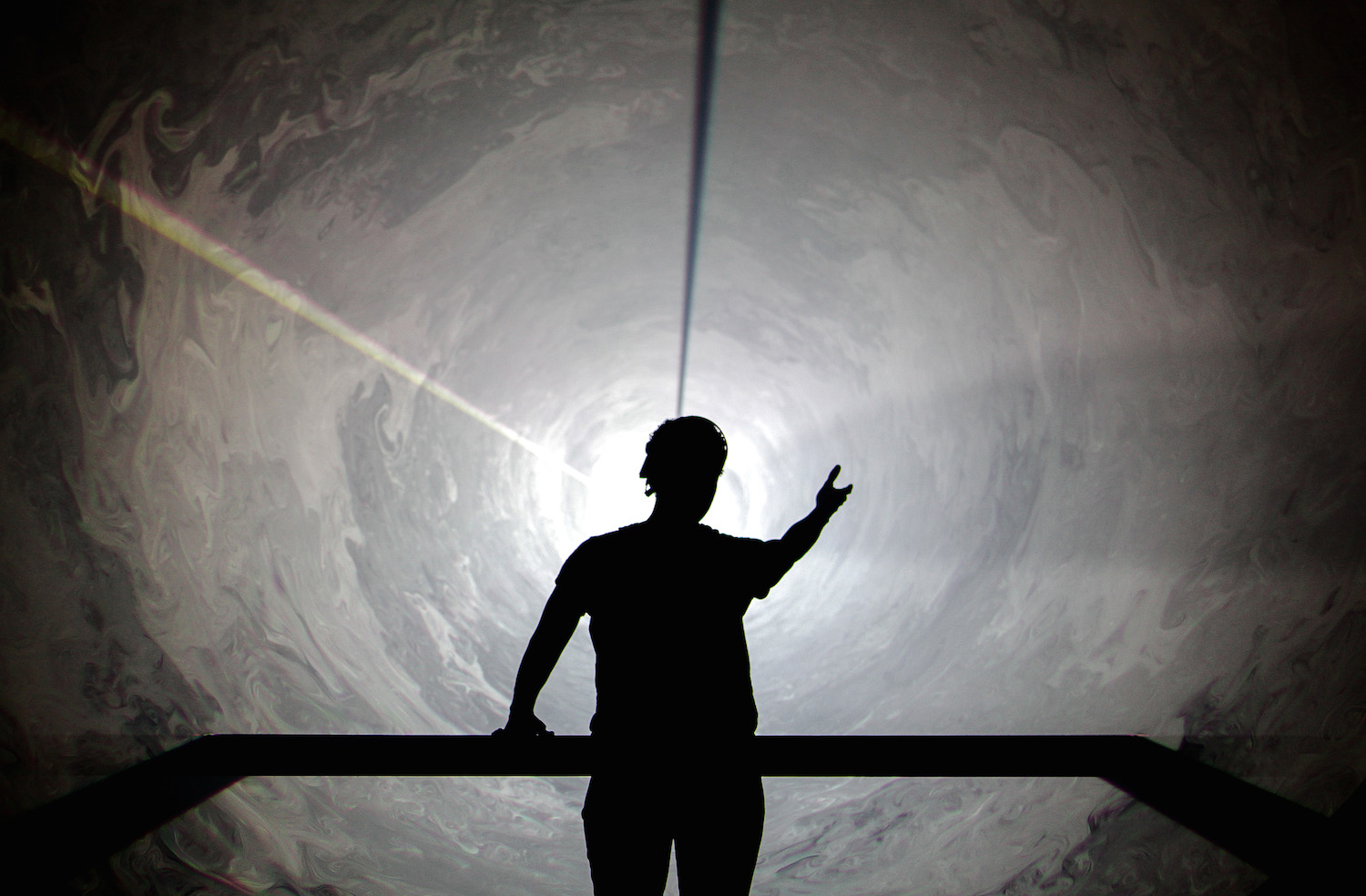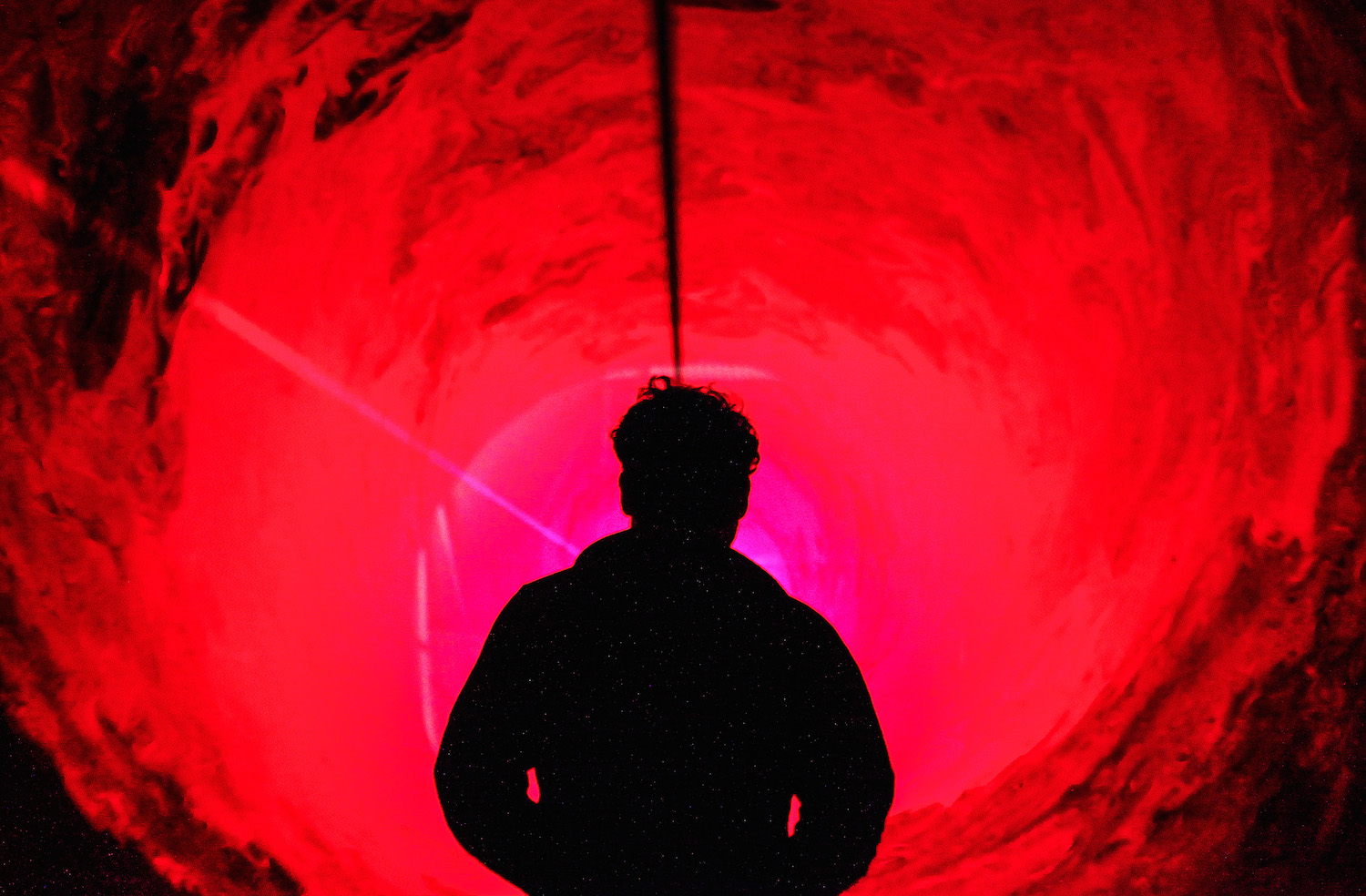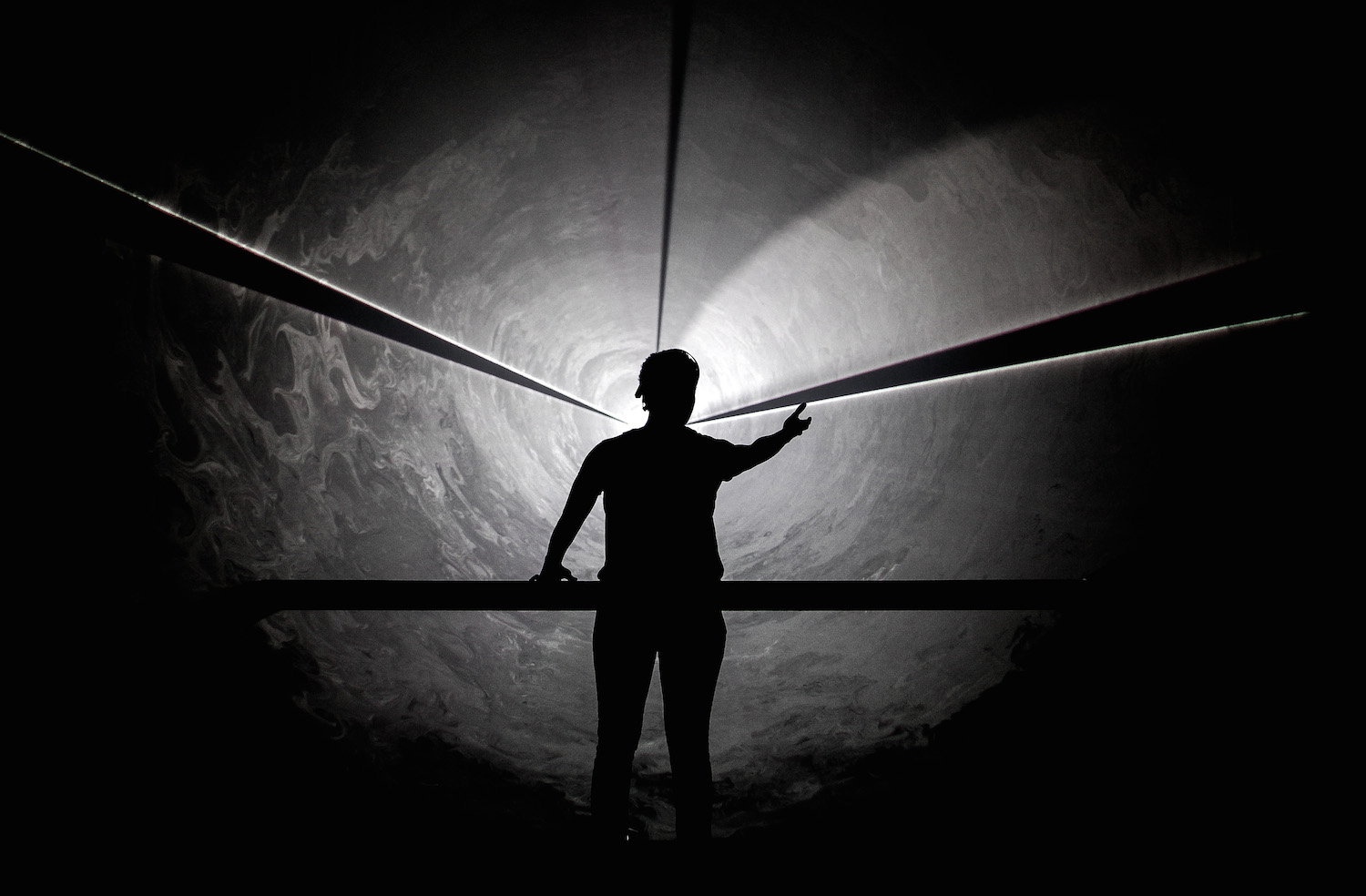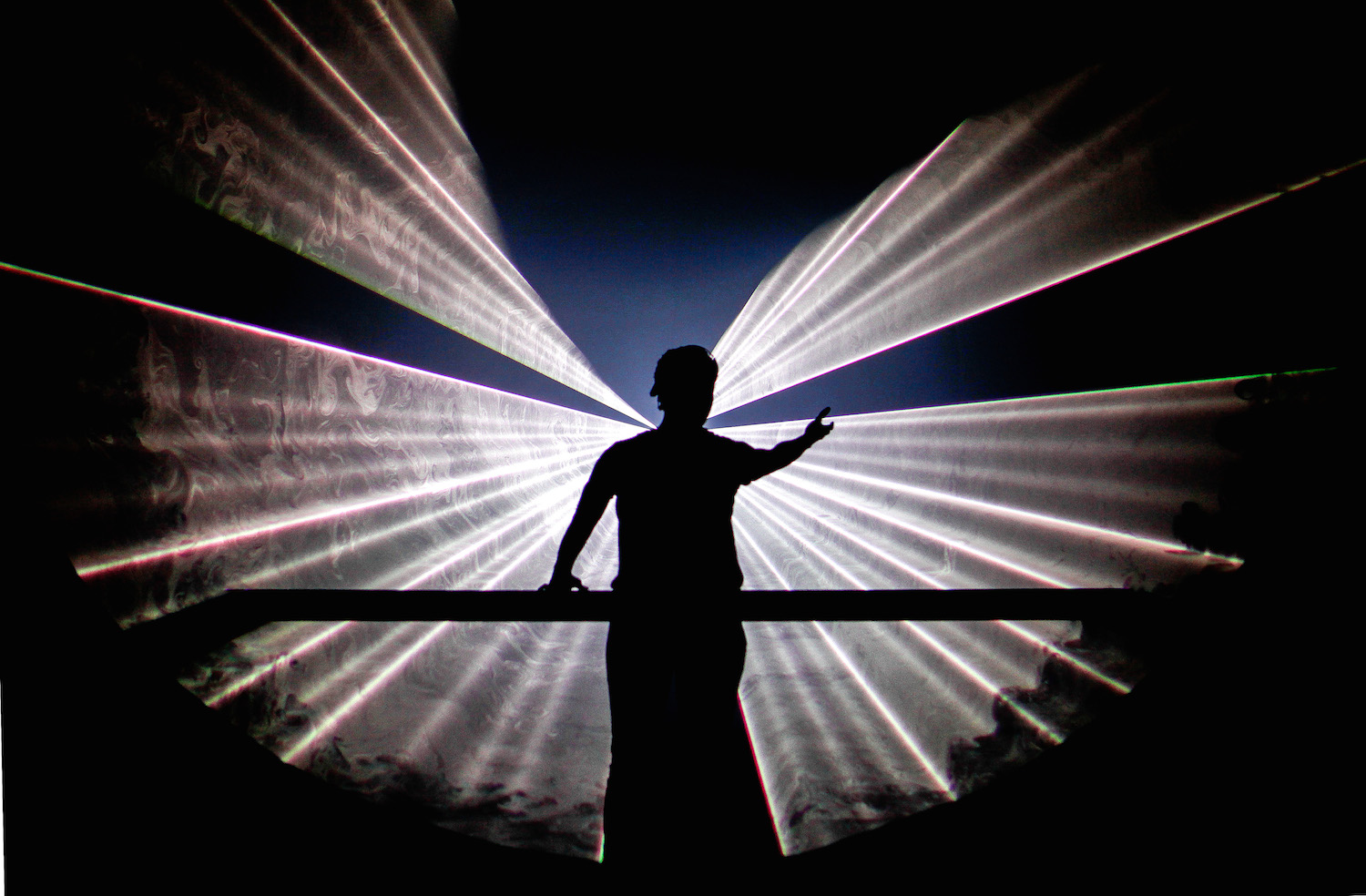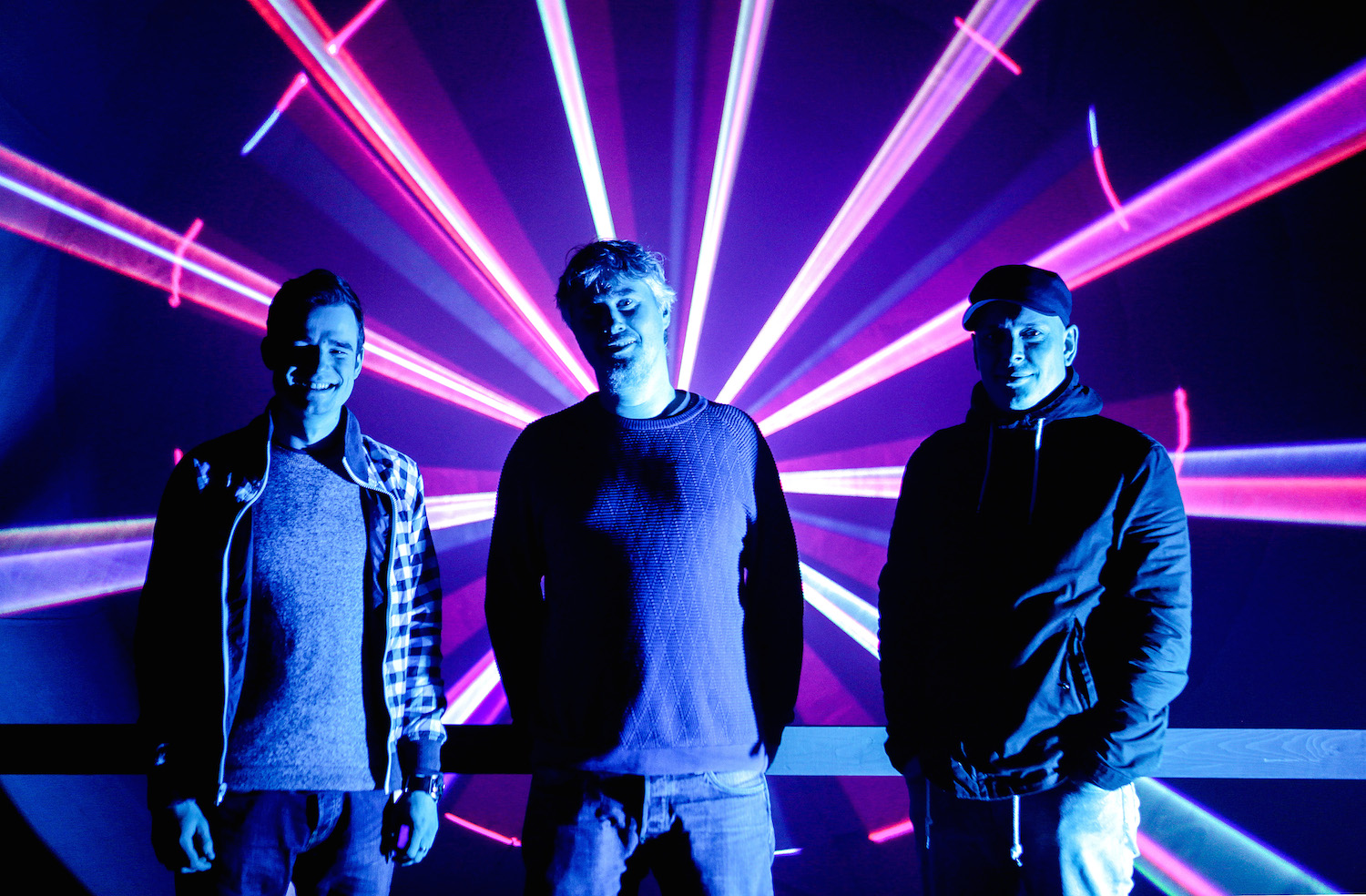 In a dark space, participants were fitted with an EEG head-set that monitors the electrical activity of their brain wavelengths. Data was then interpreted by computer software in real-time, and used to control a high-powered laser and sound composition; allowing thought patterns to directly modulate the physical light surrounding them.
The aim was to reach a focused 'state of mind', that can only be achieved through their ability to 'let go'. The installation highlighted participants' minds as tangible objects and generated a unique 'brain signature' for each user.
Marcus collaborated with sound artist Rob Thomas to write the custom software that translates EEG signals into data to drive the real-time audio. Alex Anpilogov created the visual synthesizer which translates the data into a real-time visual composition to feed the laser.
The laser equipment was supplied by E.R Productions.
About the artists:
MARCUS LYALL
Marcus has created experimental film and interactive projects for the last 20 years. Starting with live film shows during the heady days of rave, he moved on to specialise in making visuals for large-scale concerts. He now works on a range of moving-image projects, from award-winning stage visuals for The Chemical Brothers, Metallica's feature film to directing a commercial starring Lionel Messi. He has created a number of artworks, which have been exhibited at galleries including The ICA, National Gallery of Australia, Seoul Museum of Modern Art and the Science Museum, London.
House of Pain - Watch video
http://www.marcuslyall.co.uk/works/house-of-pain/
ROB THOMAS
A music composer and sound designer, Rob makes music behave in unusual ways, often reacting or adapting itself to the listener's mood or situation. He is currently working on music which adapts to user behaviour and data to help people understand how to exercise better, meditate better or live a healthier lifestyle. In August 2014 he worked with Artists & Engineers and Atmos Studio to create a 3d ambisonic soundscape for Arboreal Lightning – a large scale interactive LED tree installation at the heart of Imogen Heap's Reverb festival. From 2009 to April 2014 he was Chief Creative Officer and Interactive Music Composer at RjDj. He has also worked on a number of sound installation projects and worked with sound artist Leanda Brass for her sound artwork accompanying the first holographic portrait of HRH Queen of England.
ALEX ANPILOGOV
Alex is a designer and technologist who develops hybrid projects for advertising, film, digital and live event industries. Starting his career as a creative technologist at a pioneering projection mapping studio The Darkroom, Alex now specialises in building bespoke production pipelines that combine a variety of mediums, data and outputs - from generative visuals and LED design to mobile apps and the web. He is also involved in London's startup scene and runs a boutique investment company which helps fund early stage UK-based startups.
OUR SUPPORTERS.
We would like to express our big thanks to our supporters, E.R Productions who kindly sponsored the laser equipment for this installation. Neurosky who supplied the headsets and Brogan Group who helped to build this amazing structure.