A classroom of robots.
FREE Pre-book a portrait drawing
LOCATION Platform Southwark, 1 Joan Street, SE1 8BS
DATES 24 May – 4 June. Wednesday – Sunday.
TIMES 12 – 7pm
ARTIST TALK/BOOK LAUNCH 31 May. Talk 6.30 - 7.30pm followed by book launch. Ends 8.30pm. RSVP details below.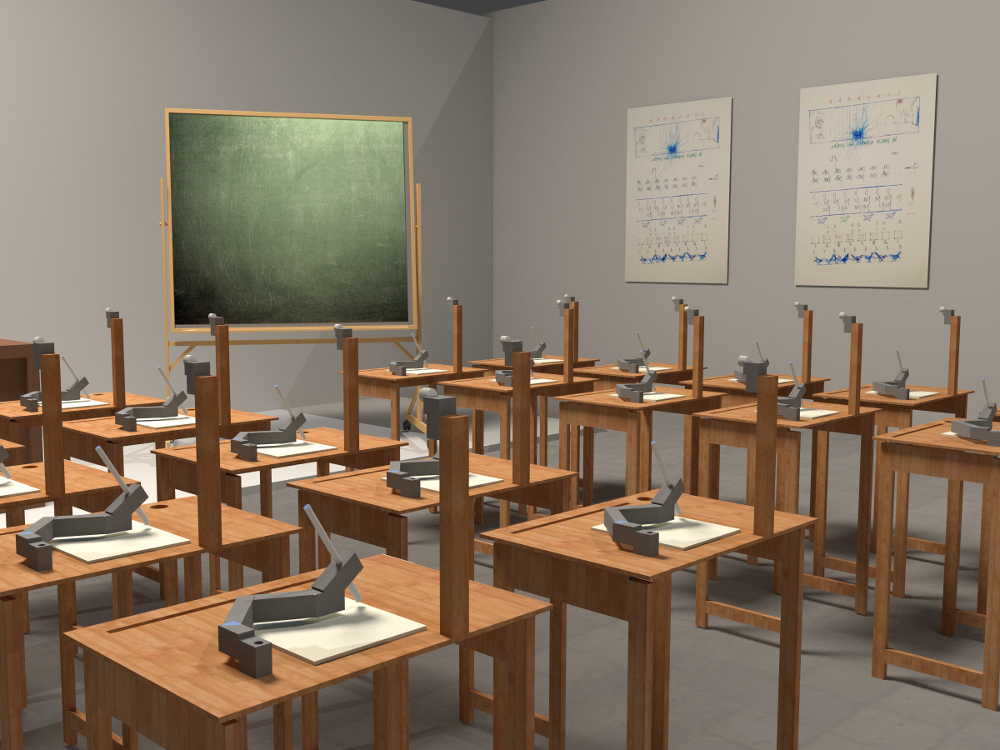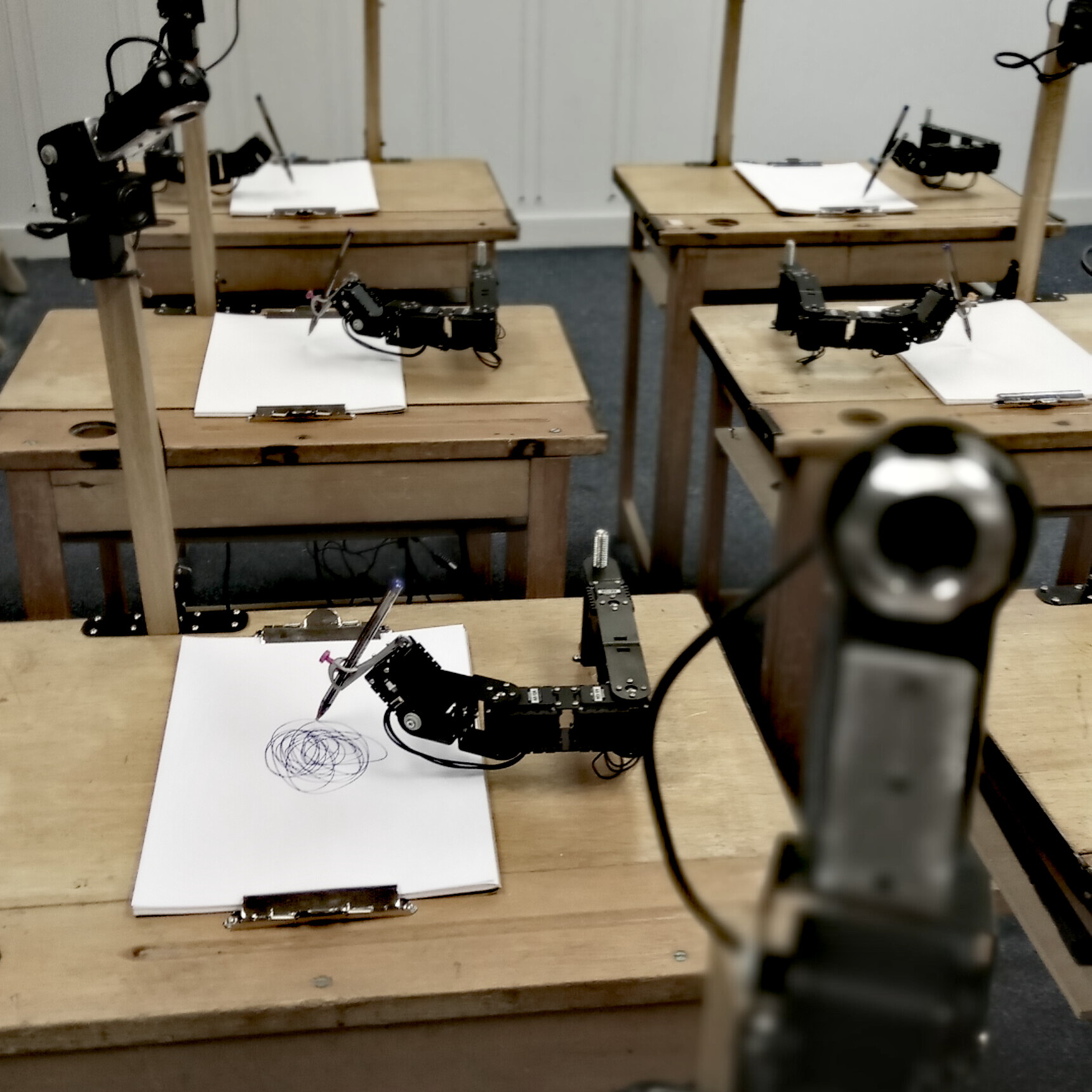 Premiering at MERGE Bankside 2017, Human Study #4 is a new robotic art installation from artist Patrick Tresset. Observe a classroom of 20 robot pupils learning, each displaying traits affecting their behaviour; shyness, nerdiness, boredom, and distracted by the activity of the public in the room.
The theatrical classroom is inspired by Tresset's childhood memories and a fictional nostalgia of 1970s French primary schools, using robots as minimal actors.
In another room, in a scene reminiscent of a life drawing class, you can take the sitter's role to be sketched by robots now observing you. The three robots (Human Study #1, 3RNP) sketch your portrait obsessively, the human subject at the mercy of the robot's scrutiny. The drawing sessions last 30 – 40 minutes. The drawings will be included in the 'Collection' – a series that is composed of over 12,000 drawings of participants, progressively covering the gallery walls. Sitters will also be able to purchase their drawings.
Human Study #4 is the latest installation by Patrick Tresset, commissioned for MERGE
2017, as part of his Human Studies series.
ARTIST TALK/BOOK LAUNCH
The exhibition coincides with the UK launch of Patrick Tresset's new book 'Human Traits and the Art of Creative Machines', published by the Laznia Centre for Contemporary Art, Gdansk Poland and edited by Ryszard Kluszczyński. A talk with the editor, Patrick Tresset and art historian Francesca Franco will take place on 31 May to coincide with the book launch. The talk will start at 6.30, lasting an hour, followed by the book launch. The event will end at 8.30pm. Places are limited so please RSVP to angie@illuminateproductions.co.uk.
Human Study #4 is the latest installation by Patrick Tresset, commissioned for MERGE 2017 as part of his Human Studies series.
Hosted at Platform Southwark. Brought to you by U + I.
About the artist:
Patrick Tresset is a London-based artist who develops theatrical installations with robotic agents as actors. Tresset crafts computational systems that introduce artistic, expressive and obsessive aspects to robots' behaviour. These systems are influenced by an exploration of human behaviour, more specifically how humans make marks and depict others, and how they relate to robots.
Robots voices: Steph Horak
Assistant: Sabina Tupan, Ozden Sahin