Behind NME Lines
A photography exhibition celebrating NME cover shots
Location: NEO Bankside, Pavillon A, 50 Holland Street, London, SE1 9FU
FREE EVENT
What makes a great magazine cover? To put it simply, impact. A combination of images and coverlines (or in some cases, the lack of them) come together to create a striking statement that spells out the mission of the magazine whilst also documenting the moment it was created as a snapshot of modern times.
Behind NME Lines was a unique photography exhibition experience that showcased the greatest, most iconic and most controversial covers in NME's incredible 60-year history.
"In the magazines 60th year, it was crucial that we programmed a series of exciting events that would appeal to young and old. We were offered the chance to work with Merge whom were a pleasure to deal with. Their team provided the vital skills, that put on a great event with us which exceeded all expectations. We will definitely be calling on them again in our 100th year!" Tim Pearson (NME)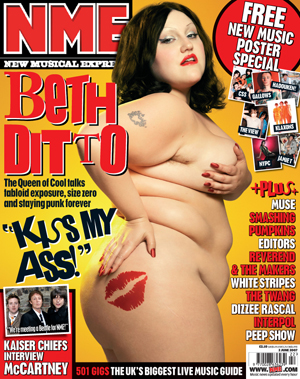 Launched in 1952, NME is the world's most famous music magazine, a legacy that has been built on unrivalled passion, knowledge, access and of course, countless unforgettable covers that are now as much a part of music history as the artists that feature on them.
From Kevin Cummins' plaint-splattered The Stone Roses and Dean Chalkley's bittersweet Amy Winehouse tribute, to Pennie Smith's bold announcement that The Strokes had landed to Ellis Parrinder's celebration of a naked Beth Ditto, these are the covers that have defined not only the artists, but 60 years of rock'n'roll, NME itself and the readers whose lives they changed forever.