The Dennis Rosen Trust presents THE CRUCIBLE Where Scientists meet Artists: Changing Faces
 
The event is in collaboration between the Dennis Rosen Trust and MERGE Festival 2014
Location:The Gordon Museum of Pathology Hodgkin Building, Guy's Campus, King's College London SE1 1UL
Date:Thursday 9th October 6.30pm to 8.30pm
THE CRUCIBLE
The Crucible was chaired by Daniel Glaser, with special guests speakers, plastic surgeon Charles Nduka and portrait artist Diarmuid Kelley. This event invited artists and scientists to meet and discuss their work. Supported by The Gordon Museum, The Dennis Rosen Trust and The Science Gallery.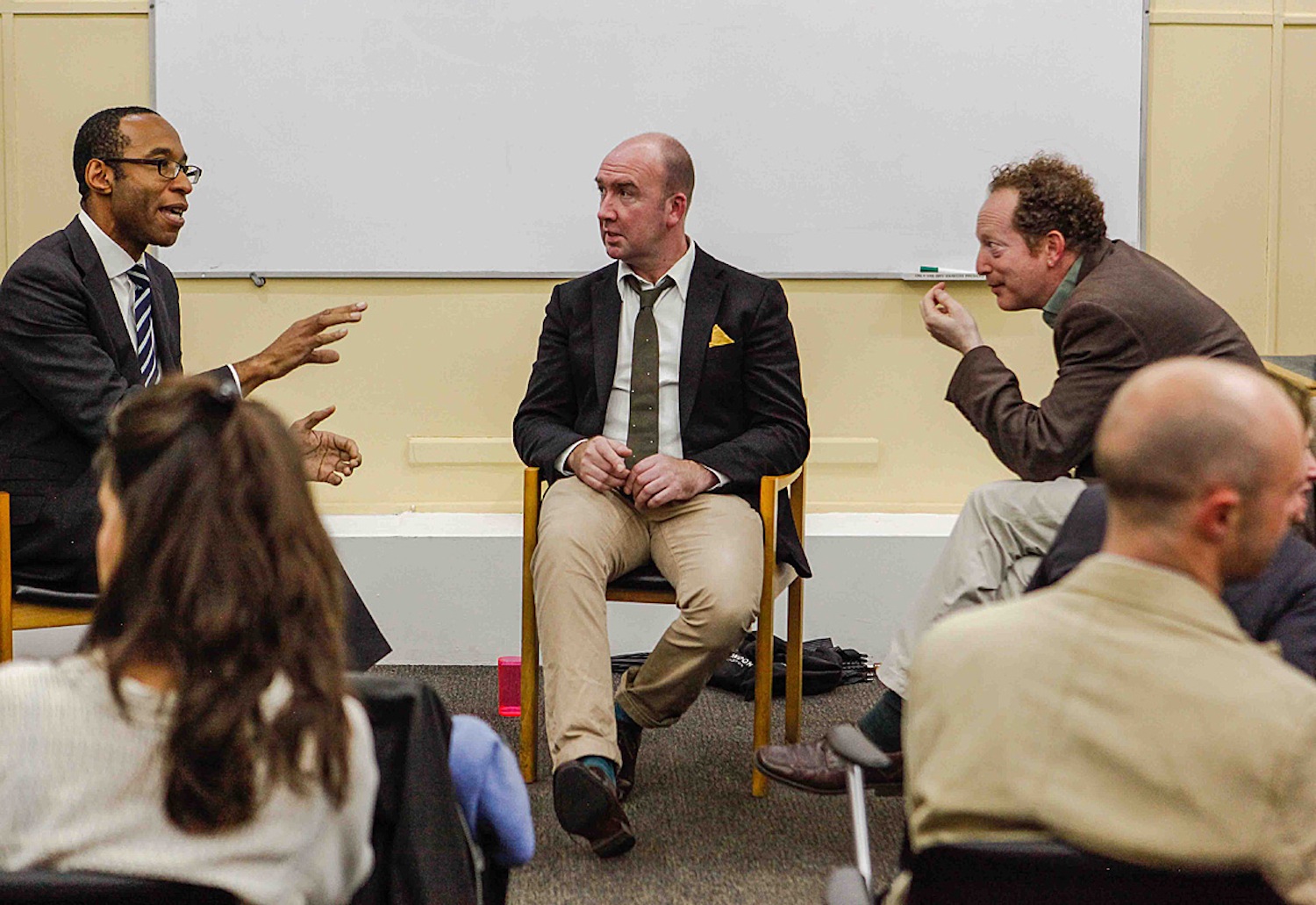 THE DENNIS ROSEN TRUST
The trust exists to foster both greater understanding of art by scientists and of science by artists. For artists it is both to make the basic areas of science intelligible to them so that they might act as materials for artistic development, and also to encourage artists to tackle scientific themes directly. For scientists it is to inspire thinking about the human and ethical dimensions of their work and also to encourage better writing by scientists as well as a deeper appreciation of non-scientific culture.

THE GORDON MUSEUM
The Gordon Museum, houses many historically significant pathology and surgical specimens, including original specimens of all human body parts. The museum is one of the few medical museums in the country that continues to accept new specimens to document new and emerging diseases such as HIV/AIDS. Recent projects include analysing DNA from organs to discover whether the patient has suffered from malaria and using magnetic resonance imaging (MRI) to gain insights into the effect a disease has on the internal structure of organs.

ABOUT
CHARLES NDUKA
Charles Nduka was born in London and grew up in London and Henley-on-Thames. He studied medicine at Oxford University, where he undertook an intercalated degree for which he was awarded a Master of Arts degree. He completed his clinical studies for the MB BS degree at St. Mary's Hospital, in London. He graduated in 1994 with a Distinction in Surgery. He was also awarded Honours in Surgery by the University of London.
Charles Surgery Following his internship he spent 2 years in full-time cancer research with Professor Sir Ara Darzi at Imperial College, investigating the mechanisms tumour spread following surgery. For his thesis he was awarded a doctoral degree (MD, Doctor of Medicine) by the University of London.
He undertook his surgical training in London teaching Hospitals including the Royal London & St Bartholomew's Hospital, Charing Cross and Hammersmith Hospitals. He completed his specialist training at the Royal Marsden Hospital. He was awarded the Gold Medal for his performance in the plastic surgery FRCS examination.
He undertook further specialist training in France, Brazil and London where he learned modern aesthetic surgery and advanced techniques for facial reanimation following facial paralysis.
He is a fully accredited specialist in plastic surgery, and is on the Specialist Register in Plastic Surgery with the General Medical Council (GMC No. 4108438). He is full member of the British Association of Aesthetic Plastic Surgeons (BAAPS). Charles Nduka is also Honorary Senior Lecturer at Imperial College, London where he researches techniques to improve outcomes in plastic surgery of the face and breasts.


http://www.charlesnduka.co.uk/biography.asp
DIARMUID KELLEY
Born in Stirling in 1972, Diarmuid Kelley grew up in the north of England. He studied Fine Art at Newcastle University, graduating in 1995. He was the youngest artist ever to win the prestigious Nat West Art Prize at the age of 23, in the same year, he graduated from Newcastle. He went on to study for a Masters degree at Chelsea College of Art and Design.
Kelley has a long association with Offer Waterman & Co, having had five solo-exhibitions at the gallery. His work has regularly featured in the BP Portrait Award held at the National Portrait Gallery, London, and he has recently participated in a number of other group exhibitions including The Figure, Browse & Darby, London, Hinterland, Thomas Williams, London and Illuminate, Jasmine Studios, Hammersmith, London.
Each year, Diarmuid undertakes a limited number of portrait commissions, often painted on location, which are produced in parallel to his studio work. In 2010 he was commissioned to paint Dame Anne Owers, Her Majesty's Chief Inspector of Prisons, This painting is now part of the National Portrait Gallery's permanent collection.
http://www.waterman.co.uk/artists/97-Diarmuid-Kelley/works/
DR DANIEL GLASER
Dr Daniel Glaser is a neuroscientist who has worked for many years promoting public engagement with science. He is Director of Science Gallery London at King's College London. This is a new space where art and science collide to be constructed on the Guy's campus opposite the Shard in London Bridge. He was previously Head of Engaging Science at the Wellcome Trust responsible for all external funding for public engagement and the arts. His scientific background involves the use of fMRI (functional magnetic resonance imaging) to examine how experience, prejudice and expectation alter the way we see the world. He comes from an unusual academic background having studied maths and then English literature at Cambridge, doing a masters in cognitive science at Sussex University, and graduate work in neurobiology at the Weizmann Institute in Israel and postdoctoral work at UCL.
In 2002 he was appointed 'Scientist in Residence' at the Institute of Contemporary Arts (ICA) in London. This was the first appointment of its kind at an arts institution. In 2005 he was in the first cohort to receive a Cultural Leadership Award from the National Endowment for Science, Technology and the Arts (NESTA). As well as presenting a television series for the BBC on how science really works, he has contributed to numerous BBC television and radio programmes. He was previously a judge on the Aventis Prize for science books and the Wingate Prize.